Are you searching for a comfy travel pouch that will keep your cat calm and safe while traveling or carrying around? The Cat Carrier Pouch is designed to be comfortable, yet extremely helpful in bringing your beloved feline anywhere you go. Now you can steadily hold your kitty, making them feel loved and comfortable while traveling!
KEEP YOUR STANDARDS HIGH
You may wonder how this pouch can help keep your cat safe? The Cat Carrier Pouch will protect and secure your loved one in a car, on a plane, or even on a casual stroll. The pouch is equipped with a zipper that locks your cat into place, preventing your adorable feline from falling out or running away. There is also a shoulder strap for easy carrying, so your kitty will feel weightless around your body!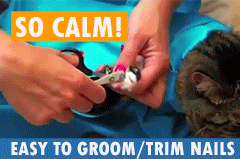 CONVENIENT AND PORTABLE
Conveniently equipped to wear like a purse, the Cat Carrier Pouch can be taken wherever you go. Whether you're going on vacation or just to the vet, you can take your feline friend virtually anywhere!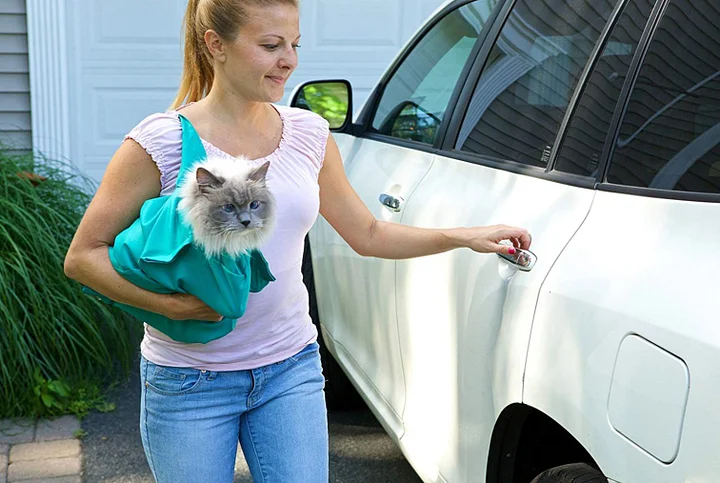 FEATURES 
✔️Premium/High Quality Materials​: This innovative pouch is composed of a premium oxford, providing you and your kitty with unparalleled quality and comfortability.
✔️Quick Grooming​: Because of the tight yet secure fit, it is fast and simple to clip your cat's claws. Say goodbye to all the unwanted scratching when grooming your cat!
✔️One Size Fits All​: The bag is perfectly designed to support cats of all sizes. This bag secures and protects any cat.
✔️Ultra Convenient​: It has never been easier to carry your loving cat whenever and wherever you go. This pouch is easily accessible, allowing it to be extremely flexible in the ways you use it.
✔️Has a shoulder strap sling that makes for easier carrying and keeps your pet close to your body
✔️Can also be used as a grooming sack for clipping nails, bath time, or administering medicine
✔️The opening for your pet's head is adjustable and there are 2 openings for the front paws which can be closed with Velcro
✔️Allows your cat or small dog to see his surroundings which will help keep them at ease
✔️Top strap is connectable to a seat belt
✔️Machine washable